Pony Club Camp
One of our biggest attractions is Pony Club camp. This is held during the summer holidays and looked forward to by all the children.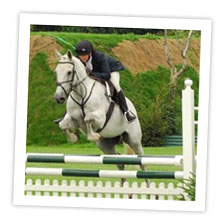 We divide camp into three different levels according to age and ability so that everybody feels comfortable. Camps provide the chance for great friendships to be made based on shared interests and children developing stronger bonds with their ponies. Whilst the main aim is to learn, we try to make camp as enjoyable as possible and there are lots of fun and games.
Mini Camp
This is a great introduction to pony club and is very relaxed and friendly. Age guidelines are 5 – 8, or for children still on the lead rein or needing lots of help tacking up etc. Run over three days, ponies and children are brought in every day. A parent/helper will need to stay all day with the child. There are two mounted lessons every day as well as stable management sessions, the opportunity to do badges and simple 'tests' – but most importantly have lots of fun and games.
Junior/Non Residential Camp
Age guideline 8 – 11 or for children who are riding mainly off the lead and able to look after their own pony (but there are lots of older helpers). Run over five days, ponies usually have the chance of staying for the week, but children go home every evening. Again children get two mounted lessons, stable management sessions and the chance to do badges and tests.
Residential Camp
Ask any one of our members what their highlight of the pony club year has been, and practically everyone will say camp! Especially residential camp, with many of the younger members waiting eagerly for their 11th birthday so that they can camp out in a field for a week. Around 50 of our members ranging from 11 to the dedicated 'oldies' at 25, club together for a week of mucking out, joking around and late nights, and we absolutely love it.
The camp area has a really friendly atmosphere, with many new faces made to feel welcome every year. Each day involves two lessons with excellent instructors and a stable management session to help our members learn a bit more about looking after their horses. This is followed by tack cleaning, which along with a loud radio and tons of cake isn't such a bad job! After a final muck out and feeding comes the race to the shower block, dinner and then our evening activities such as our famous ' Silver Fox on foot' and rather competitive rounders games. All day we are supplied with brilliant food, and start the day off with full cooked breakfasts every morning!
Camp is a great chance to meet new people and have a laugh with friends. You learn so much from the instructors and finish camp having improved your riding ability and overall horsey knowledge. It's an opportunity not to be missed!